HOW TO CHOOSE THE "BEST" EMAIL MARKETING SOFTWARE
Let's address something straight from the beginning.
There is no one best, magical, golden fairy dust coated email marketing software out there.
This means that asking in a Facebook group "What email software should I use?" will often result in a laundry list of answers of different businesses using different things.
Yes, it can give you a starting point of somewhere to look. But, often, it just results in confusion.
Enter – me.
I've tried a lot of different software providers. It's my job after all.
There's not much that I love more than playing with some new piece of software and figuring out how it all works. #nerdalert
So, as a result, I have some thoughts. And some major opinions.
But before I get into the meat of the blog post, one big fat disclaimer: I haven't tried all the email software in the world. There seems to be a new one released every week. So I can't keep up.
Instead, I'm focusing on the names that probably crop up most.
Another disclaimer – what I like, you might not like. And that's ok. Different software "feels" different.  That's why based on the below information I recommend you choose one and then sign up for a trial and see if you like how it flows.
The most important thing is that you START!
I've lost count of the number of small business owners who spend months trying to decide. Months where they could have been gathering email addresses and getting sales from their email list.
Any email marketing software is better than no email marketing software.
With that said, let's begin with a question…
WHAT TYPE OF BUSINESS DO YOU HAVE?
It frustrates me so much when someone gives advice on what email marketing software you should use without first asking this important question.
If I don't know how you are going to be using your email marketing, then I can't recommend the best tool for the job. Simple.
While at this stage you might not know all the amazing wizardry email software can actually do – I can at least give you a pointer in the right direction on where to start.
To keep it simple, there are 4 different categories of business for email marketing services:
   

Just Starting or Simple Setups

   

E-commerce

   

Services / Multi-offer

   

Content Creators
JUST STARTING OR SIMPLE SET UPS
This is where you just need something to begin, to collect email addresses and send emails. Perhaps a basic welcome automation too.
If you only have one way people can sign up to your list (and don't intend on expanding to more for quite some time) – you'll probably be happy to start here. 
There are two likely contenders for this stage: MailChimp and MailerLite.
MailChimp because it is the most popular and everyone seems to just default to it.
MailerLite because they are really showcasing amazing features all on their free plan.
Don't get me wrong. There is a time and a place for MailChimp. It gets people emailing. And that's a good thing.
However, with recent feature changes and making someone need to pay to access some critical features, they have lost me. I'm all for paying for features but they have become a jack of all trades, master of none. So if I'm paying I'd prefer to go with someone who is specialised in what I am after.
MailerLite, on the other hand has all that MailChimp had previously on their free plan – for free (up to 1000 subscribers). And, personally, I find it nicer to use.
"I've just started learning email marketing and using MailerLite. It has been very easy to learn and navigate my way around. They have been a great support too, for when I've needed to reach out for help."
E-COMMERCE
While both of the above systems can connect to your e-commerce store and do have e-commerce features, they haven't been designed with e-commerce in mind.
And that makes a big difference.
E-commerce is a specialist field. And, if email is done correctly, your email marketing software should easily be paying for itself multiple times over.
So if this is you, I would highly suggest starting with something specialist. And to me there are two main contenders: Klaviyo and Omnisend.
What makes these special is they integrate really nicely with your store, with all the sales data you need so you can re-market to your existing prospects and customers – in a way that is tailored to them.
I'm not just talking abandoned carts here, but browse abandonment, post-purchase bounce back. post-purchase thank you's, review requests, replenishment reminders and customer win-back. All of these sent automatically based on the timing you choose with nice templates to get them setup.
Having all of this setup means that you can email your subscribers at the time they are most likely interested in buying from you – without just mass emailing everyone.
This means it reduces the number of times you need to do mass campaigns.
You can even include dynamic product-content blocks which means different products can be displayed to different subscribers based on what they are interested in. Very cool.
While MailChimp and MailerLite can achieve these to a certain extent – they are not as comprehensive or as easy to setup.
"Shifting from Mailchimp to Klaviyo has been a real game-changer for my email marketing. I find Klaviyo's templates so easy to use and modify, making it super fast to create emails. The visual aspect of the flows helped me understand how to create my own, and I actually just dove right in and gave it a go without feeling overwhelmed. The segmenting capacity though is where Klaviyo really shines!"
SERVICES / MULTI-OFFER
If you are a service-based business but are looking at having a few different offerings that a single session, package of sessions or signature service, then you'll probably want to look at something more advanced than just MailChimp or MailerLite.
This is because the more offers like workshops, e-books, courses or retreats you have – the more segmented your subscribers need to be.
What I mean by that is, we don't need to be emailing everyone, everything – only those who are most interested.
Additionally, if you have more than one opt-in incentive, the simple systems can get a bit messy in managing who gets what.
That's why for services I tend to recommend ActiveCampaign*.
It's what I use and I can't see myself changing anytime soon.
ActiveCampaign really has the most flexibility with lists, segments, tags and fields. It also has the most powerful automations. It gives me pretty much all the possibilities and scenarios which is why I like it.
On the downside, it isn't as "pretty" and it doesn't have it's own landing page builder.
It can do e-commerce but you need to be on the Plus plan to take full advantage of those features. And if you are a dedicated e-commerce business, you are better with one of the above recommendations. However, if you sold a couple of digital products through your e-commerce store as a supplement – it will do that nicely.
There is a slightly steeper learning curve to it, but a little time invested at the beginning will have you and your business loving it for years to come.
Finally, if you don't have a CRM (Customer Relationship Management) system, but would like one – you can get that as part of your ActiveCampaign on the Plus plan too, making all your prospect and client processes streamlined with automated emails and follow-ups.
"I currently use ActiveCampaign and love it because of the automation capability. You can save so much time and nurture your list by creating evergreen newsletters with multiple entry points, as well as easy client on-boarding and follow-up because it integrates with loads of other apps."
"I love ActiveCampaign because you can create the pieces you need at any point. If you're putting together a workflow and you don't have the email drafted to link it in you can do it then and there! It prompts you at each stage."
"I chose ActiveCampaign for its enticing solutions to email marketing that were user friendly. When I changed over, I soon realised that I had the potential to be more engaged with the movements of my email lists – the dashboard makes it so simple to see what's happening and to create great automations. And because I've invested in AC and I want to get the most out of my investment, I'm more prone to using it. I also know the capabilities are there for when I'm ready to up-level during a launch period. I have no regrets about switching over or paying for such a necessary marketing tool."
CONTENT CREATORS
While ActiveCampaign still works very well for digital content creators (memberships, courses, etc) – there is other email marketing software that provide a more dedicated solution.
First, there is ConvertKit, which really has been designed with bloggers, podcasters and video content creators in mind. I also find it the easiest to use out of any software.
It's where I started and where I would have stayed if I didn't want lots of extra toys to play with.
ConvertKit really provides a great signup experience and makes welcome automations, digital product delivery, and tagging simple. Emails can be created and sent within 5 minutes.
On the downside, they only offer a single list (with segments) so sometimes it's tricky to divide them up. Their emails are also very text based which works great for deliverability, but I know some prefer lots of imagery in the design.
Others to consider in this category are not exclusively email marketing software but all-in-one business platforms: Kajabi and Kartra.
This is where your emailing AND content delivery are combined in the one. So you can create a course including sales pages and setup the emails and signup pages for it in the one place.
If you know that you want to get straight into dedicated digital product creation with a minimal integrations possible – these could be perfect for you.
"I find ConvertKit intuitive and easy to use. I also love that you can create beautiful landing pages and forms."
"Swtiching to ConvertKit from MailChimp was a no-brainer. Even after using MailChimp for almost seven years, I'd still never learned it to its full capacity. Starting fresh with ConvertKit allowed me to learn everything from the get-go. And, now I'm investing in ConvertKit for my business, I find myself using it more and more. I'm no longer afraid of e-mail marketing. I even get replies from my audience. You can't ask for much more than that!"
OTHER CONSIDERATIONS
Of course there are other considerations when choosing your email marketing software, but I'm 1500 words in and only covered the first (but most important) question.
So let's make this an express round…
Here's some other things you need to keep in mind.
What you want to integrate into
What other software are you using, and can your chosen software above integrate into it nicely?
Things to think about are your website/store (WordPress, Shopify, etc), your CRM and your scheduling/booking software.
Do a quick search of "email software" and "other software" and see if a direct integration comes up. Alternatively, you may need to use Zapier to connect the dots.
For some, more advanced operations like with your store, do a little more research. For example while MailChimp can integrate with WooCommerce, it cannot pull in WooCommerce product categories – which for large stores is a problem.
Deliverability
AKA the chances of your email reaching someone's inbox and not the promotions tab or spam.
Check out this link for the latest stats: https://www.emailtooltester.com/en/blog/email-deliverability-october-2021/
A variance of a few percent between providers isn't a huge deal as the numbers and rankings do vary over time. But it is something to consider.
Price
Yes, price is important. But I've left this until last as I want you to consider the possibilities before the price. As mentioned above, your email marketing software should pay for itself many times over (38x according to some studies!) – so price shouldn't be as important a factor.
However, if it's coming down to choosing between a couple of providers then by all means add price into the factor.
Or, if it is just not possible for you to invest financially in your business at the moment then go with something free to start so that you can build the funds to move to something that will grow with you.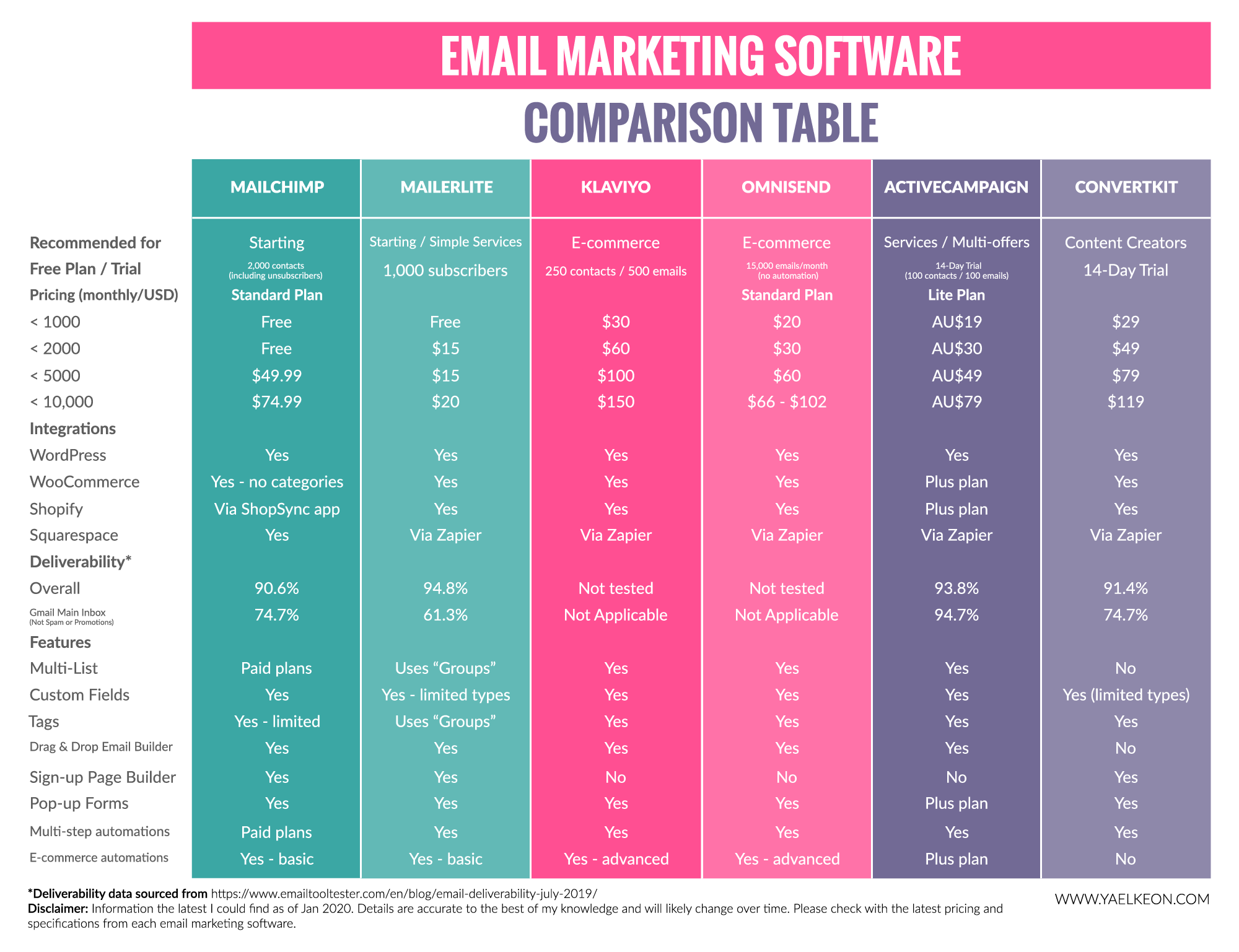 want a more detailed look at each software? have a listen to these easy email marketing podcast episodes
Conclusion
My hope is after reading this you are feeling a lot clearer about what email marketing software to try. So that's what I want you to do! Go. Create an account. Or two accounts. And play!
Here's all the links you need to get started:
(*=Affiliate link)
Ultimately, even if you begin with something and after a few months you find you don't like it or in a couple of years you outgrow it – that's okay. It's not that complicated to migrate from one to another. So instead of paralysis analysis I recommend learning by doing.
If you want more support when it comes to your email marketing journey, then check out The Email Experience membership. It's the only online email marketing membership out there that goes beyond just the basic signup / list building strategies into creating amazing experiences for your subscribers – while getting you sales in a service-led way. And there are tutorials on a huge range of software so I won't force you into any favoured product. (Yes, I still teach MailChimp! Including some of my sneaky workarounds).
Whether you call it a webinar, a training, a masterclass or a workshop - you always have the goal of getting as many people as possible signing up and watching. And email marketing of course plays a huge role in this. Not only do you use it to invite existing...